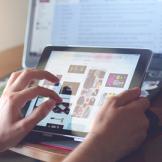 Python Computer Programming - Intermediate
Central Library
Every week on Saturday at 10:30, and also on: 07.12.2019
This program is a multi-week course that runs from Nov. 16 - Dec. 7, 2019 (fall session) or March 28 - Apr 18, 2020 (winter session) .
Age: 10 - 13
Students will learn to be more comfortable coding in Python while taking advantage of the language's unique features. They will learn about more advanced coding concepts such as objects and functions. By the end of the course, students will be able to write a basic application by themselves. Find us in Room C. 
Students must have completed an introductory course on Python. 
Note: Children under the age of 11 must be accompanied by an adult to the program room for drop-off and pick-up for the safety of the child.
Admission: $60
View our Payment and Refund Policy.