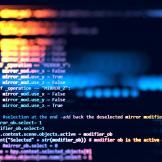 Python: Computer Programming (Introduction)
Central Library
Every week on Saturday at 10:30
This program is a mult-week course that runs from Jan. 11 - Feb 1 OR Feb. 15 - Mar. 7, 2020. 
Age: 10 - 13 
Students will learn how to write code in Python using loops and conditional statements.  By the end of the course, students will be able to write a basic application with some assistance. Find this program in Room C. 
Note: Children under the age of 11 must be accompanied by an adult to the program room for drop-off and pick-up for the safety of the child.
Admission: $60.
Register (session 1 starting Jan. 11) 
Register (session 2 starting Feb. 15) 
View our Payment and Refund Policy.