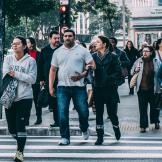 Quarantine Lessons with The Shoe Project
Online Programs
Every week on Tuesday, Wednesday, Tuesday and Wednesday at 19:00, but not on: 22.07.2020, 28.07.2020
Age: Adults
We are all in this together when it comes to coronavirus; yet different communities may have different experiences. Join Cordelia Tang and Tenzin Palzom from The Shoe Project as they share their stories.
July 15, 7:00 – 8:00 PM: Meet Cordelia Tang, Director of The Shoe Project. Cordelia arrived in Canada from China in 2011.
July 29, 7:00 – 8:00 PM: Meet Tenzin Palzom. Tenzin is Tibetan, born and raised in India. She was part of Project Resettlement, which helped one thousand Tibetans find a home in Canada.
The Shoe Project The Shoe Project is a non-profit that holds writing and performing workshops for immigrant and refugee women. Workshop participants improve their English language fluency and public speaking skills by writing a story about their journeys to Canada through the lens of a pair of shoes. To help newcomer women present their stories in a public performance, veteran writers mentor their art of story crafting and theatrical artists provide voice coaching.
This program will be done through Zoom, a free videoconferencing software for tablets, smartphones and computers. Access instructions will be sent to those who register.