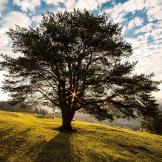 Ravens
Have you ever seen a large, black bird and assumed it was a crow? Well, it might have actually been a raven. Ravens are amazing birds that can solve puzzles and mimic human voices. Find out how to recognize them and the clever things they can do.
What Are Ravens?
Find out how to recognize ravens, and see how super smart they are in this Sci Show Kids video.
Ravens vs. Crows
Learn how to tell ravens and crows apart. Check out this great comparison from the Corvid Research blog.
Watch a Raven Solve Puzzles
A falconer in England posts her interactions with Fable the Raven on YouTube. Here's a video of Fable completing puzzles, recognizing colours, and having a conversation.
Famous Ravens
There must always be at least six ravens at the Tower of London. Find out the history of these ravens and watch a short video about how they are cared for by the Ravenmaster on the Tower of London website.
Crafts
Make your own raven with one of these crafts. Use this printable to make a lifelike raven or follow these instructions to create a slightly cartoonish raven with handprints for wings.
To Learn More
The Smithsonian's National Zoo has information on everything you could want to know about ravens. Find out what they eat, where they live, and how big they can grow.
Stories about Ravens
You can check out these books on hoopla with a valid RHPL card.
The folktale of The Seven Ravens by The Brothers Grimm
The Raven and the Loon by Rachel & Sean Quitsualik-Tinsley
I Am Raven by David Bouchard
The Raven (a retelling of Edgar Allen Poe's The Raven) by Elise Wallace
Want more? See themed days by our staff on our Daily Adventures page.