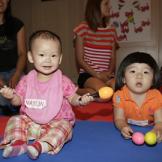 Ready, Set, Learn!
Online Programs
Every week on Monday and Monday at 15:30
Ages: 3-5 with caregiver
Share a story, play some games and get moving as we learn pre-school skills. This program will be offered with a new theme every week!
Aug 10 (with Shubha)
Aug 17: Every story has a beginning, middle and end.
Aug 24: Sorting/Classifying
This program will be done through Zoom, a free videoconferencing software for tablets, smartphones and computers. Access instructions will be sent to those who register.