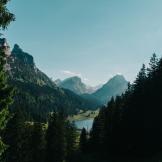 Rocks and Minerals
Adopt a Rock
Today is all about rocks. Not the music, but the other kind of rocks. Since you will be spending a lot of time with rocks today, why not begin by making a rocky friend.  Find a rock, give it a name, and if you have a marker or some paint, you could even give it a face. Now it's time to learn more about your new friend.
What are Rocks?
With your Richmond Hill Public Library Card, you can access this great video and accompanying article on Science Flix that introduces you to all that can be learned from rocks.
Did You Know That Rocks Have a Life Cycle?
Wind, water, ice and many other factors change rocks over time. Use this interactive media piece on Science Flix to investigate how that happens and what other stages are involved in the life cycle of rocks.
Here is a similar tool to help you explore the life cycle of rocks a little further.
Investigate Further Through Experimentation
Let the experts from Science North lead you through a little experiment to help wrap your head around the three different kinds of rocks. Watch an introductory video here, and access the instructions for the experiments here.
Rock On With Your Creative Side    
Let's explore rocks in a completely other way. Grab a piece of paper and a pen or pencil and embrace your creative and comical side. Let's make a list of things you can do with a rock. Here is a good start:
1. A paperweight
2. An anchor to keep your canoe from floating away
3. Practice your throwing skills
4. Use it as a hammer
5. Your turn!
Learn More with eBooks!
With your RHPL Library Card you can access these great resources to learn more!
These Rocks Count! by Alison Formento and Sarah Snow
What are Metamorphic Rocks? by Kirsten Rajczak Nelson
What are Igneous Rocks? by Kirsten Rajczak Nelson
What are Sedimentary Rocks? By Frances Nagle
Rock Crafts by Betsy Rathburn
Want more? See themed days by our staff on our Daily Adventures page.