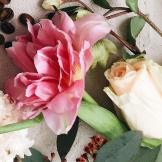 Roses
Roses are flowers with a rich scent. There are about 100 species, or types, of rose plants. They belong to the rose family of plants, called Rosaceae. Most roses grown in gardens and sold by florists are hybrid tea roses. Roses grow almost all over the world. The plants grow in the form of shrubs or vines. The stems usually have sharp thorns.
The flowers vary in color and size. They come in shades of pink, red, orange, yellow, and white. They may be from 0.5 inch (1.3 centimeters) to 7 inches (18 centimeters) across. Wild roses usually have five petals. Roses grown by people often have many sets of petals. The petals grow out from a fleshy, fruitlike structure known as a hip.
Roses make beautiful decorations. But roses have other uses besides being pretty. People use the fragrant oil from rose blossoms in perfumes. They also use rose hips to make jams and herbal teas. Rose hips are a rich source of vitamin C.
How To Tell If A Plant Is In The Rose Family
This article by the Herbal Academy teaches kids how to identify roses among plants.
Rose Facts
You can learn about the roses' history and symbolism via this website.
Songs about Roses
There are many songs about roses and flowers, including the popular "Ring around the roses", "La vie en rose",  and "The rose" by Bette Midler. You can sing songs about flowers too.
Sing a song of flowers: https://www.youtube.com/watch?v=7mtMltMJ6Mc
Rose, rose o lovely rose: https://www.youtube.com/watch?v=C5ljMnVq86A
Rose Flowers (song with actions): https://www.youtube.com/watch?v=wX8RWsvSoEw
Rose Themed Art
How to make a duct tape rose step by step: https://www.youtube.com/watch?v=pPfhpTHeiOE
Rose petal art - See how an artist uses real flower petals to create blossoming fashion illustrations here.
Want more? See themed days by our staff on our Daily Adventures page.