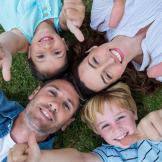 Storytimes Outside
Richvale
Every week on Thursday and Thursday at 15:00
Join us for an outdoor, physically-distanced family storytime! We'll share our favourite read-aloud books, rhymes and music. This is a drop-in program; free tickets will be given out 15 minutes prior to the storytime outside of Richvale Library on a first-come, first-serve basis.
Help us keep our community safe. Please keep the following in mind when attending our outdoor storytimes:
Storytimes are weather-dependent. Please visit our Outdoor Programs webpage at 9:30 a.m. on the morning of the storytime for cancellation updates.
Masks must be worn at all times by those who are 2 and older. Keep your distance from others.
You must remain in your designated spot and stay 6 ft. apart from community members and staff who are not members of your family.
Props and toys will not be provided. Please bring your own blanket or towel, shaker, scarf or sock (socks are perfect interactive puppets for little ones!)
Registration is limited to 24 persons due to provincial gathering restrictions. Arrive early to secure your free ticket(s).