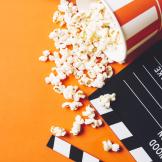 Sunday Music & Film Series: International Women's Day
Central Library
Every week on Sunday at 14:00
International Women's Day is March 8, 2019 and we're marking the occasion with live music from Kate Boothman and a screening of the film Venus, winner of the Best Female-Directed Feature at the Whistler Film Festival 2017. 
---
Music: Kate Boothman, Mar. 3 (2-3 PM)
Dubbed "Toronto's Queen of Psych-Rock," Kate Boothman is an inspired, thoughtful songwriter who has opened for Wilco, Blue Rodeo and Kathleen Edwards. She'll be performing a stripped-down acoustic set of songs from her latest album I Am an Animal. Don't miss out on this rare treat!
---
Film: Venus, Mar. 10 (2-4 PM)
A South Asian transgendered woman sees her life flipped on its head when she meets a white teenaged son she didn't know she had. Venus explores what happens when gender, generations and cultures collide to create a truly modern family.