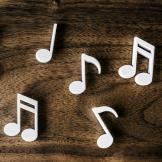 Sunday Series: Asian Heritage Month
Central Library
Every week on Sunday at 13:00, but not on: 19.05.2019
Join us during the month of May as we celebrate Asian Heritage Month 
Movie: Monsoon Wedding (Sunday, May 12, 2 - 4 PM) 
Cultures and families clash in this exuberant film about a modern upper-middle-class Indian family planning the wedding of their only daughter. Enjoy a mix of comedy and chaotic melodrama that results in a feel-good movie you won't want to miss! Find us in Room A & B.
Music: Canadian Chinese Orchestra Trio (Sunday, May 26, 1 - 2 PM)
Join us for a special musical workshop featuring traditional Chinese instruments. Three expert musicians from the Canadian Chinese Orchestra will be playing songs with a variety of wind, pluck and bow instruments. Find us in Room A.