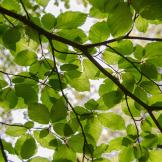 Take a Hike!
Walking in nature has so many benefits. For kids who have been cooped up at home, it helps them expend some energy and learn about the world around them. Hiking encourages a life-long love of nature and regular exercise.
Whether you're on a nature trail or in your local park, if you take a moment to pause, be quiet, and look around, it's amazing what you can see and hear.
Nature Journals:
To encourage kids to observe nature regularly, you might help them start a nature journal. It doesn't have to be anything fancy. Any notebook will do. Try drawing the birds, rodents, trees, and flowers that you see on your walk. Include a description of them including markings, size, and colouring. Then you can look them up when you get home if you're not sure of their proper names.
Here's a great SciShow Kids video about hiking and nature journaling.
If you want to use a template for your nature journal, there's a free one you can print here.
Technology and Hiking:
If you take a smartphone on your hike, it can come in handy for identifying the flowers you see and the birds you hear.
You can use the Google Lens app to analyze the pictures you take of plants. It will compare your photograph to other photos in the Google database to identify the name of each plant.
The Cornell Lab of Ornithology has developed an app called BirdNET that recognizes the bird calls of 984 of the most common birds in North America and Europe. If you hear a bird and don't know what it is, the app will "listen" to it and tell you!
Virtual Hiking:
If you can't get outside for a hike right now, the Rouge National Urban Park has all kinds of activities for you to do at home. You can go on a virtual hike, play BINGO, and download some colouring pages.
Reading:
You'll need a valid RHPL library card to check out these books.
Great books about hiking on hoopla.
Want more? See themed days by our staff on our Daily Adventures page.