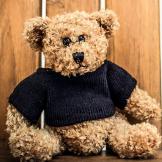 Teddy Bear Picnic
Have you heard of the Teddy Bears' Picnic?
Click this link to listen to this song all about the Teddy Bears' Picnic and learn more about what to expect on this crazy day.
Let's pretend!
Are you excited? Do you think it's real? Can you imagine that it could be real?
Why not use your creativity, your imagination and your collection of stuffed animals to create your own pretend Teddy Bear Picnic?  Find a blanket or a small table, set everyone up with a napkin and some pretend food. What sort of pretend food would you serve at a Teddy Bear Picnic?
Join in on our fun!
Join us on YouTube for a Teddy Bear Picnic Program on Friday, July 10th, at 1:30 pm.
Make it a Sing-Songy Day!
There are tons of fun bear and teddy songs you and your stuffies can enjoy on your picnic. Here are some of our favourite bear songs on YouTube:
The Bear Went Over the Mountain: Use your imagination with this one! If the bear went on a slightly different adventure how would your song and it's lyrics change? 
Teddy Bear, Teddy Bear! This one will get you moving!  Listen once, and then listen again and follow along with the actions.  Once you know the song, sing it yourself and see how fast you can do the actions along with the song. Or, see how slow can you go!  
Get crafty!
Check out this activity sheet from Crayola! Can you spot the matching teddy bears? Can you colour them so that they match in colour as well as in details?  
Here is another great teddy bear craft sheet from Scholastics. Cut out and colour this little guy. If you have pins, brads or glue at home you can assemble this guy and make a paper teddy for yourself or someone you care about.
Time for a story!
Below are some of our favourite bear themed eBooks. Sit down with your teddy bear picnicking friends and enjoy a story together!
Book Flix
Bear has a Story to Tell by Philip C. Stead
Bear Snores On by Karma Wilson
Tumble Books
Yancy and Bear by Hazel Hutchins
The Bears We Know by Brenda Silsbe
B. Bear and Lolly: Off to School by A. A. Livingston
Hoopla
Teddy by James Sage and Lisk Feng