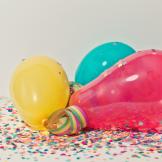 Unbirthday Tea Party
Happy birthday to you,
Happy birthday to you,
Even though it's not your birthday,
We can still celebrate with you!
Welcome to the Unbirthday Tea Party, where it's nobody's birthday but we're having a celebration anyway!
An Unbirthday Party For the Books
A famous reference to an unbirthday party is found in the novel Through the Looking Glass by Lewis Carroll, where Humpty Dumpty explained to Alice that his cravat was an unbirthday present from the King and Queen.
In the Disney animated film Alice in Wonderland, Alice stumbles upon the Mad Hatter, the March Hare, and the Dormouse having an unbirthday party and singing "The Unbirthday Song." When the Mad Hatter explains what an unbirthday is to Alice, she realizes it is her unbirthday as well, and receives an unbirthday cake from the Mad Hatter.
Watch the Alice in Wonderland Tea Party Unbirthday Song
Like a classic tea party, an unbirthday tea party is fun to have! Here are a few ideas:
Bake the "unbirthday cake" from Alice in Wonderland
Unbirthday decoration ideas from Pinterest
Make the "Unbirthday Party Hat"
Check out the following eBooks for more unbirthday fun!
Alice in Wonderland and Through the Looking Glass by Lewis Carroll
A Literary Tea Party: Blends and Treats for Alice, Bilbo, Dorothy, Jo, and Book Lovers Everywhere by Alison Walsh and Sara Letourneau
Alice in Zombieland by Lewis Carroll and Nickolas Cook
As you can see, even if today isn't your birthday, you can still celebrate!
Want more? See themed days by our staff on our Daily Adventures page.