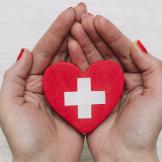 Wellness Seminars for Seniors
Zoom programs
On the 1. and 1. Thursday each month at 09:30, and also on: 08.07.2021
Ages: Adults (ideal for ages 65+)
Join us for a series of monthly support and education workshops for seniors, presented by CHATS (Community & Home Assistance to Seniors).
July 8: Cognitive & Mental Health: The Aging Brain 101
August 5: Healthy Aging & Nutrition
September 2: Health & Wellness: Mindfulness
October 7: CHATS Programs & Services
November 4: Alzheimer's Disease & Brain Health
December 2: Eye Care & Vision Loss
This program will be done through Zoom, a free video conferencing software for tablets, smartphones and computers. Access instructions will be sent to those who register.
Registration for July - September events: Register
Registration for October - December events: Register