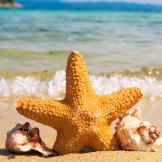 Whale of a Tale
Have you ever dreamed of spotting or even swimming with a whale?  What do you think that would be like?  Today's adventure explores that question just a little by sharing some great whale-themed resources. 
Which Whale is Which?
To start, there are many different types of whales out there in the great wide oceans. 
This guide from the Coastal Ocean Research Institute shows you all the different whales you might find off the coast of British Columbia. 
The National Oceanic and Atmospheric Administration - Fisheries, an agency of the US government, has also published guides to help you learn about and recognize the different species of whales.  They have published three guides: one for the North West Atlantic Ocean, one for the Pacific and Arctic Oceans and one specifically for the West Coast of the USA.  Check them out and explore all the different whales and marine animals that live close to us. 
This guide from the North Atlantic Society helps you identify whales you might see by teaching you about different identification techniques. This page also gives you more information on different whales you might find along Canada's Atlantic Coast. 
Where Are They?
Different whales have different habitats.  Did you know there is a virtual map you can use to track sightings of North Atlantic Right Whales?  Check out this link. 
If you are interested, this CBC article from June 2018 explains more about how this resource was developed and what it is used for. 
Investigate Further With Science
Scientists in School has shared some exciting experiments you can try at home to help understand more about whales and their unique attributes. Recreate the function of a whale's blow hole, or investigate the science behind why ice doesn't freeze around whales.  They also provide information you can learn and use to impress your parents at the dinner table.  Follow the link for activities and information.  
Explore Further through Our Online Resources
Anyone can access the following resources through TumbleBooks.
This animated nonfiction book tells the story of a girl who dreams of swimming with a blue whale while teaching you all kinds of weird and amazing facts about them.
TumbleBooks also gives you access to a couple of short movies:
Critter Cam – Blue Whales by National Geographic
Lifestyle of the Beluga Whale by National Geographic
With your library card, you can access Hoopla's collection and search for this comical story about a boy who discovers the unimaginable: A Whale in the Bathtub by Kylie Westaway.
Want more? See themed days by our staff on our Daily Adventures page.