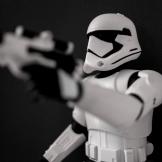 Wonderful World of Star Wars
Enjoy the magic and mythos of Star Wars from your living room!
Books
Your Richmond Hill Public Library card gives you access to lots of great ebooks and eaudiobooks from the Star Wars Universe. Check out these titles from our Overdrive Kids collection.
The Library also has a great collection of books for you to borrow. You can also place a hold for curb side pick-up on our Star Wars print books found here.
20 Best Star Wars Books from Canon and Legends
Virtual Tours and Challenges
Star Wars: Escape from Star Killer Base - challenge yourself with Richmond Hill Public Library's very own virtual escape room. Be sure to check out the other escape rooms while visiting this page!
Experience Star Wars here on earth! Star Wars: Galaxy's Edge Virtual Tour in Stunning HD - Disneyland Resort.
"Star Wars: The Magic of Myth" was on display at the National Air and Space Museum from October 31, 1997 to January 31, 1999. This online tour represents the exhibition as it was originally displayed at the National Air and Space Museum.
Enjoy Star Wars on your mobile device with Electronic Arts Star Wars Galaxy of Heroes - Play for free
Costumes
15 Star Wars Cosplay That Are Nearly Impossible To Do (But Fans Pulled It Off)
Other Online Resources
Learn about all things Star Wars on Wookieepedia