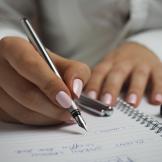 Wonders of Writing
We all have our own stories to tell. Writing gives us the ability to share those stories with the world. Like anything worth doing writing takes time and practice. There are plenty of activities out there to help kids learn these skills and even learn to love it!
Writing Exercises and Activities
Writing does not have to be intense or complicated. When children are young, you should focus on the simple things before you encourage them to write their own book. For some good ideas to get kids to develop skills as simple as writing on paper with a pencil, look at this list.
If you just need some help getting started with the writing process, prompts are the place to start. Writing prompts are basically questions or starting ideas that encourage a person to think of an essay response or story. There is a collection of 251 prompts for kids here from the writing website Journal Buddies.
Writing can be something that kids claim to hate on occasion, but it doesn't have to be that way. Just like speaking, writing is simply a part of life. It is impossible to hate writing if framed in the right way. Check out this list of activities for reluctant writers to show how fun it can be.
Is it time to start thinking about typing? When young kids are learning to write, pen and pencil are always the best place to start. However, as children get older, typing becomes a vital skill for all types of writing. If your child needs to start becoming proficient with a keyboard, there are tons of fun typing games available here. They can have a blast while getting better at typing!
What if you want to write and enjoy it but just can't make it work? Writer's block (the in ability to write despite desire) can be a real issue. The Purdue Online Writing Lab has a great article that covers writer's block. Access the list of writer's block causes and possible solutions here.
Do you have a young author at home who is ready to see their writing in print? You can look at this list of resources to see places that accept submissions by young writers. The list includes contests, online magazines, journals, and even Toronto-area writing events.
Writing Crafts
A writer's most valuable tool is their pen or pencil! Make a pompom-based topper for your tool with the help of this craft activity resource.
Colour a paper bucket. Then, write your own summer bucket list with the template that is available here.
Writing does not have to just be words. Comic books and graphic novels can be an amazing way to merge a love of art and stories. Check out this classic graphic novel template to get started.​
Want more? See themed days by our staff on our Daily Adventures page.